Staff Team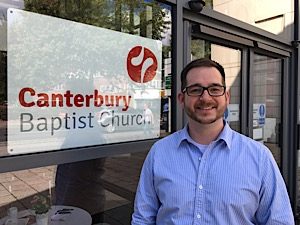 Andrew has been the Minister here since November 2015. First studying at Canterbury Christ Church University (Music and Religious Studies) before working for the church and training for Baptist Ministry at Spurgeon's College, London. He served as Minister at Central Baptist Church, Leicester before returning to Canterbury with his wife (Jenny) and three daughters (Hope, Ruby-Grace and Anna). He spent most of his childhood in East Anglia, supports Arsenal, Leicester Tigers and Ulster (mainly with pressure from his in-laws!) Enjoys working with Christians and churches across the city, serving the wider baptist body to glorify God and see His kingdom here.
---
Rachel started as Minister in Training at CBC (one day a week at Aylesham Baptist Free Church) in September 2020 moving from a career in the NHS as an Occupational Therapist. She lives in Dunkirk with her husband George, who is an art teacher, and son Noah. Rachel has always had a passion for sport and an active lifestyle, with a background in women's football. These days she fits in a swim, gym or cycle when possible and supports Norwich City. She also enjoys reading varied Christian literature and listening to podcasts. Rachel has a heart for evangelism, desiring others to know the transforming power of God through Jesus Christ. That many would hear the Word and believe in His Name, of which both she and George are a testimony. She has an anticipation to see God's Kingdom come, on earth as it is in heaven, in Canterbury and Aylesham.
---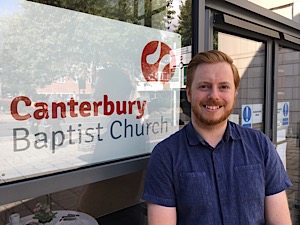 Stephen joined the Staff Team in July 2017. He had previously been a primary school teacher and a training local preacher in the Methodist Church before making the jump to working and worshiping here at CBC. He has a wife called Doreen, who is a pharmacist and lives with Stephen in sunny Ramsgate, along with their son, Ezra. Stephen actually comes from Ramsgate and went to university at Canterbury Christ Church. He loves cooking (and eating his wife's delicious food!) and is a big sports fan, supporting Manchester United, the Indianapolis Colts and Kent Spitfires as well as playing badminton and other sports as often as he can. Stephen is very excited about working here in Canterbury and trying to bring churches and people together to both make the name of Jesus known and make His Kingdom work happen here for the good of those who live and work in the city.
---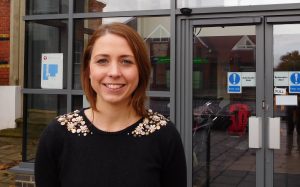 Children's and Youth Co-ordinator – Michelle White
Michelle has been attending CBC since she began studying at Canterbury Christ Church University in 2004. She has previously worked as a primary school teacher in schools around Kent and also spent 7 months leading a school for orphaned children in Tanzania in 2012. Michelle currently works as a teaching assistant in a special needs school alongside her work at CBC. In her free time, Michelle can usually be found doing something creative, be that sewing, scrap-booking or Bible journaling. Since her clear call by God to work with children when she was 19, Michelle has ultimately wanted to teach children about the love of Jesus. Michelle is passionate about sharing the gospel with children and young people with the goal that they develop and grow their own relationship with Jesus and become His disciples and looks forward to doing this at CBC and in the wider community.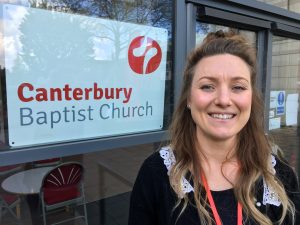 Church Leadership
Elders:
Additional Contacts